Helpful Resources to start a Patient
WITH BENLYSTA, YOU HAVE ACCESS TO AN ARRAY OF TOOLS AND RESOURCES TO HELP YOU AND YOUR PATIENTS FROM DAY 1Are you ready to start BENLYSTA for a patient? These resources can help.
BENLYSTA Cares Overview for Patients
Guide outlining BENLYSTA Cares Program, co-pay and coverage information with BENLYSTA Gateway, supplemental injection support, and other information and tools available to patients.
BENLYSTA SC Instructions for Use for Patients
Details the preparation for the injection process and provides clear instructions on how to use the Autoinjector. Answers commonly asked patient questions and provides post-injection tips.
Getting Started on IV for Patients
Details the infusion process and answers commonly asked patient questions. Provides post-infusion tips and shares other patients' experiences with BENLYSTA infusions.
Conversation Guide
Patients can use this conversation guide to prepare for their next appointment with their Rheumatologist. The guide helps patients focus the conversation, collect their questions, and recall important details.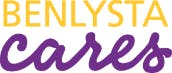 1-877-4-BENLYSTA (1-877-423-6597) Monday to Friday, 8 AM ET TO 8 PM ET
Select option 1 for BENLYSTA Gateway www.benlystagatewayonline.com
BENLYSTA Cares is here to provide support to your patients as they start treatment with BENLYSTA. BENLYSTA Gateway is here to help them understand coverage and co-pay options.