Established safety profile in systemic lupus erythematosus (SLE)
Long-term safety
studies in SLE
Safety profile
in patients with
lupus nephritis (LN)
BASE=Belimumab Assessment of Safety in SLE; BLISS=Belimumab International SLE Study; EMBRACE=Efficacy and Safety of Belimumab in Adult Subjects of Black Race; PLUTO=Pediatric Lupus Trial of BENLYSTA.
* Adult Phase II (Trial 1), BLISS-76 (Trial 2), BLISS-52 (Trial 3), EMBRACE (Trial 4), BLISS-LN (Trial 5), PLUTO (Trial 6), BLISS-SC (Trial 7), and BASE (post-marketing safety trial).
SLE: ESTABLISHED SAFETY ACROSS A WIDE RANGE OF PATIENTS
Adverse reactions in ≥3% of patients receiving BENLYSTA 10 mg/kg + standard therapy and ≥1% more frequently than in those receiving placebo + standard therapy in the 52-week Phase II trial, BLISS-52, and BLISS-76
LN: SAFETY PROFILE
ADVERSE REACTIONS OBSERVED IN BLISS-LN WERE CONSISTENT WITH THE KNOWN SAFETY PROFILE OF BENLYSTA IV + ST IN PATIENTS WITH SLE6
Incidence of adverse events in the BLISS-LN trial6
An overall summary during the 104-week BLISS-LN trial.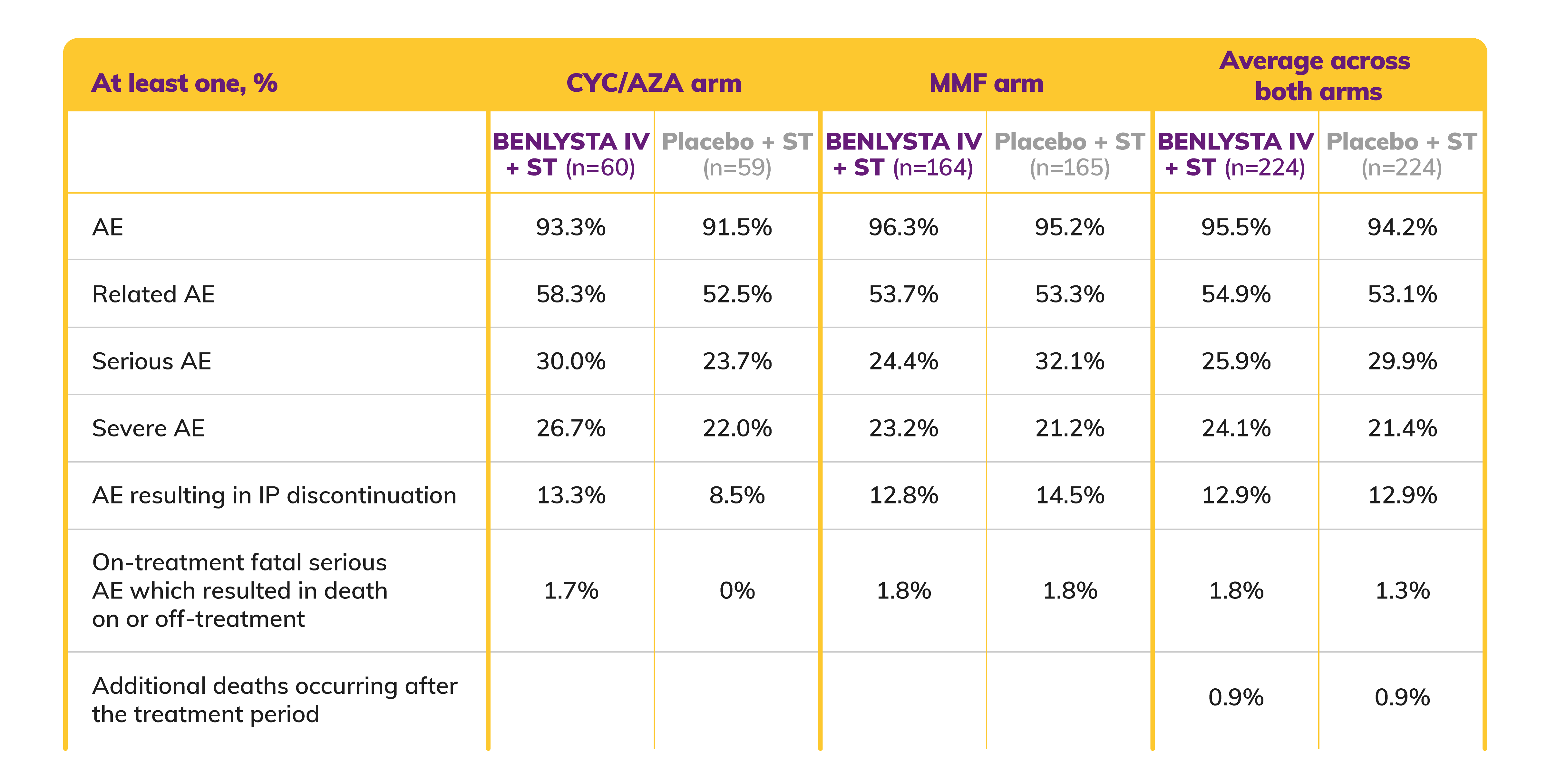 AE=adverse event; AZA=azathioprine; CYC=cyclophosphamide; IP=investigational product; MMF=mycophenolate mofetil.

Consider the safety profile of BENLYSTA when prescribing for your patients.